If you read my last post, you learned about how I once upon a time met a girl on the internet, and that she flew halfway around the world to meet me in the real world. That was in September of 2011.
She was scheduled to fly back home on October 6th, but less than a week into her visit here in Canada, we both had the feeling that a month simply wasn't long enough, and it was going to be terrible when we would eventually have to say goodbye. We started talking about the possibility of her extending her stay.
Then September 11th happened.
We were staying in a nice hotel room on our road trip around western Canada when we woke up to see that New York was being destroyed by air planes. In the days that followed came news about the difficulties people were having with international travel, and we started talking about how it maybe seemed like a sign that maybe she wasn't meant to travel back in October. Not that we needed much in the way of justification at that point. We were pretty much head-over-heels for each other.
Part of the road trip included a stop to visit my family. Of course they all hit it off with her, and she with them. I'm pretty sure my sister actually told me at one point that I had her permission to marry this girl, or something to that extent.
By the time we finished the road trip and got back to my little apartment, we were convinced that one month simply wouldn't do. In fact, maybe we should see if she could just stay indefinitely.  While discussing this issue with my friend Marc, he suggested we go to the Immigrant Women's Association, since they had free legal advice for foreign chicks (pretty sure that was the motto on the business card) We made an appointment, and headed down a few days later.
As we sat in the downtown waiting room, we were acting like conspiring criminals,
"Do we tell her we're engaged or something?"
"Do you think it matters?"
"I don't know. Maybe we should."
"Okay."
And with that, she slid a ring that her grandmother gave her off of a finger on her right hand, and placed it on the engagement finger of the left. We thought we were being so clever.
We met with the lawyer, who was immensely helpful. When it all boiled down the basics, we had 3 choices.
A: She goes home as planned, and we plan for her to return on another visitor's visa later in the year,  at which point we would get married and move on to either B or C
B: We get married before she heads back home, and then she would apply for residency from outside the country. We would have to raise about $10,000, and it would take approximately 5 years
C: She stays in the country, and we get married before her visa expires, and apply from within the country. She wouldn't need to leave the country, it would take about 2 years, and cost about $2000
We walked out of the place a little shell-shocked, as we realized what that information meant. We were both thinking the same thing. Option C.
"Are we engaged now?"
"Yeah, I think we are"
And that fakey engagement ring suddenly became her actual engagement ring.
This was mid-to-late September, and, if I recall, her visa was only for 3 or 6 months, so the wedding had to happen quickly. We decided on November 3rd.
Here's where I offer the only advice I have for people who intend to get married one day. If you don't have major aspirations and desires for EXACTLY how you want the day to go, and give yourself a very low budget and small amount of time to plan, it can work out perfectly.
We had almost no money, and I think we borrowed about $5000 from my bank to help us with living costs for the year that she wasn't allowed to work, and we used less than $2000 of that on the wedding. I rented a tux, and my fiance, an excellent sewing person, decided to make her own dress, a dark red number with a black veil which turned out amazing.  She also crafted the bouquets and picked out some very simple decorations. We told the wedding party members to simply dress in something black, so that nobody would have to rent clothes, or buy clothes they wouldn't have a use for after the fact. I have two couples in my life who had been my best friends at that time, (and remain so) so the guys were my groomsmen and the girls offered to stand up for her, since it was looking to be an "all groom's side" kind of wedding.
This was the only downside about the whole thing. Due to the shortness of time, the distance, and the expense of travel, none of her family and friends would able to make it here for the wedding, until one of my fiance's closest friends, who was living somewhat less far away than the other, said that she wouldn't dare miss the event, and arranged to travel here for it and be her maid of honour. It gave my wife-to-be at least a small piece of home to add to the event. I rounded out my side of the party with my nephew, who's always been more like a little brother to me, and will always be one of the most important people in both of our lives. We told the wedding party members to simply dress in something black, so that nobody would have to rent clothes, or buy clothes they wouldn't have a use for after the fact.
My parents have a large property, and have catered weddings for years, so they offered to handle all of that stuff. We sent a casual invitation to members of my family and friends who happened to live in or want to come to my parents' place that day. Neither of us had a desire for a dance, or other formalities, just a fun party with people who care about us to share the day.  Neither of us is especially religious so a Justice of the Peace was arranged.
One day, as I was listening to a Frank Sinatra CD while in the shower, the song "For Once In My Life" came on, and, it being a favourite, I sang the crap out of it. When I emerged from the bathroom, my fiance told me that would be our wedding song. Worked for me.
For the time and money and resources we had available, it all came together incredibly well. there were a few things that went wrong leading up to the day, but nothing we weren't able to work out. When the day came, it was a relatively nice day for early November. there was no snow on the ground, and the weather was nice enough that people could mill around outside before and after the ceremony without freezing. Days before our wedding, one of the bridesmaids suffered the loss of her mother, and we didn't expect that they would be able to make it.  Somehow, in spite of their grief, she and her husband-to-be were able to join us, something that I will always be amazed, humbled, and grateful for.
My fiance and I collaborated on the vows, and by that I mean, she wrote them, I said "I can't top that," and she gave me some flash cards to use in case I needed them. Basically, I didn't do much other than drive places and pay for things, and keep my family from doing anything we didn't think was necessary. I think it was a good arrangement. then came the day.
As I stood in front of about 30 of my closest friends and family crowded into my parents' house, in top hat and tails, awaiting my cousin to hit play on the CD player to start Sinatra's singing intro for my bride's walk down the aisle, I was very nearly as nervous as I was that day I waited for her at the airport. Then, when Old Blue Eyes started crooning, and she came around the corner, looking stunning and gothic and happy, everything else sort of melted away.
The rest of the day was a montage of awesomeness and happiness. Food, drink, WWE themed party hats and napkins laid out on the head table by my friends, drunk aunts that I'd never seen drunk before, my new wife's best friend getting hammered and fitting in perfectly with my crazy relatives, a raucous gift-opening, a night in the fanciest hotel room in the small town I was born in, including a small after party get together with my friends from the bridal party. Aside from the lack of people from my wife's family, it was perfect. I've been to and heard of plenty of weddings before and since, and I think we had more of a good time overall than most, and that's exactly what we wanted.
Well, that, and plenty of convincing pictures in case immigration had any doubts.
Now it's been ten years. It goes fucking fast, people, it's not just a cliche. Now we've got a house, a  crazy dog, a vague plan to move on to a new adventure in another province, and, in spite of some bad times and sad times, we've never stopped being there for each other, supporting each other, and loving each other.
There was a long stretch of time in my life when I was convinced that no girl would ever see anything in me worth sticking around for.  I've spent 10 years trying to figure out what it is this girl sees, but maybe I should just not give a shit and just enjoy the fact that she does.
I love you, my wife. Forever and forever.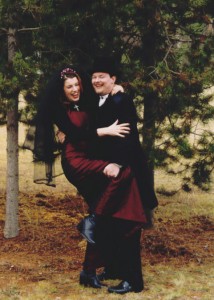 mm?
I was waiting at the airport, barely able to stand on my nervous legs. I'd hardly slept the night before, and spent the morning cleaning my little basement apartment, tidying my car, and doing other last-minute preparations.
I kept checking the arrivals board. It gave me a reason to keep pacing in the international meeting area. Eventually, the word "Arrived" appeared next to her flight number. A new wave of nerves came over me, and I thought I might pass out.
About six months before, I was checking my profile messages on a proto-social network/silly dating website called sparkmatch (which no longer exists, but was recreated as okcupid a few years later) when I got a message from a girl called kaosbutterfly. I don't recall the details of that first message, but I remember her being impressed that my profile made reference to both Nine Inch Nails and Leonard Cohen. I checked out her profile. She was really cute, her pic looked a little like Neve Campbell, and her write up seemed pretty cool, so I messaged her back.
Sparkmatch had yielded some interesting connections.  There was a single mom in Kentucky that wanted me to move down there and help her raise her kid, and a younger girl in Minnesota who liked to lead guys on and fuck with them for some kind of sport, and some other people who had become the first online friends I'd ever made. This kaosbutterfly girl was from South Africa, almost the exact opposite side of the world,  so while I was looking forward to making a new friend from a part of the world I knew little about, I didn't hold out hope that it was a romantic possibility.
Little did I know that she had already gone home and told her mom that she thought she'd found the perfect guy for her.
We exchanged messages over the site for a week or so, really hitting it off. Those PM's turned into long emails, with multiple conversation threads in each. I'm not sure which of us said i first, but at one point one of us said something that the other thought was amazing, and responded with "marry me?", and that phrase became our shorthand for "Holy crap I feel the exact same way, you are amazing", and was eventually shortened to the initialized statement "mm". Soon we were text chatting on MSN, and that became voice chats that would last up to 7 or 8 hours.
What a weird thing this was. We were effectively dating over the internet, probably getting to know each other in a deeper and more profound way faster than most people who date in the awkward world of real life could accomplish. We'd never met, but in a few months, we were absolutely crazy about each other, much to the confusion and/or concern of pretty much everyone we knew. It was too bad about the distance and expense of travel, because that made it very unlikely that we'd ever get to meet.
It was July when she emailed me about coming to Canada. She had a big chunk of vacation owed to her, and had saved enough money to afford a flight out, and would I be interested in having her come visit for a few weeks in September.  Of course I said yes, even though my insecurities started working overtime, now that I had to worry about presenting the reality of me, and not just the editable digital version. She had the same concern, but we rationalized that, even if we weren't madly in love in person, we at least had enough in common to spend a few weeks hanging out. The odds of it being terrible for either of us looked pretty low.
I was able to book the first and third weeks of her visit off of my job, and planned a road trip for us, so I could show her where I grew up, and some of the interesting sights in this part of the country. We'd spend the first couple days at my place, getting over any of the awkwardness of real life, then head out on the road.
Suddenly, it was September 6th, the date of her arrival from over 30 hours of flights and a horrible stopover at the Frankfurt airport. The combination of excitement, nerves, and uncertainty was almost unbearable as I watched the doors through which the international travellers exit after dealing with Canadian customs.
Eventually people started coming through those doors, and I began to wonder if I would even recognize her when she emerged. Every female with dark hair between the ages of 20 and 40 looked like maybe they were her. My hands reached a cold, sweaty clamminess that I couldn't seem to wipe away fast enough.
The first thing I noticed were the stripy pants she said she'd be wearing, then, as she saw me grinning awkwardly at her, she smiled widely, and I knew it was her.
The first hellos were a bit awkward, but when we finally hugged, all of that nervousness began to dissipate. I grabbed her bags for her, and we headed for my car, where I had a small bouquet of flowers waiting. We hugged again, and in spite of her travel stress, and my anxiety, it was already feeling natural.
We were about to start a three-week vacation together, having  just actually met for the first time, and already it seemed like it would be too little time before she would have to fly home again.
Fortunately, as it happened, she never used that return ticket after all.
Happy 10th Meet-aversary, my love. Thanks for circumnavigating the globe and taking a chance on some weird Canadian guy.
mm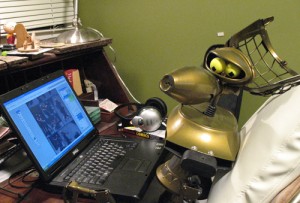 My wife and I are currently doing some proactive work to prepare our house for sale. We are hoping that we can have it sold, and have a new house bought in B.C. before the year is out. We've talked about moving to various locales around Canadia for a few years, but this time we've actually got some momentum and serious plans.
Today we each spent most of the day in a room, she in the master bedroom, and I in my 'nerd den', organizing, packing things we won't use in the near future, and throwing out whatever we don't want to haul with us for the move.
I get oddly sentimental over inanimate objects that don't seem worthy of such regard. Some of you who've read me for ages might remember a shitty bamboo shelf that barely remained upright under its own weight, that took me years to finally disassemble. Not throw away, mind you,  just disassemble (I might make something out of the pieces one day!)(no I won't) and put it in the basement to gather dust until now, when it has finally earned a trip to the great beyond.
I still have a bunch of VHS tapes. I have a small TV with a VHS player built in, and I never play any tapes in it, but I still hold onto those tapes, and today, I knew I would have to finally chuck a large portion, if not all of them. For the most part, I'm okay with this. I'm keeping a few of my favourites, because I'm thinking of making shadowbox type art pieces out of them, but many are getting the dumpster trip, like the horrible 90's porn I have on a few tapes.
The VHS tapes that I am having a seriously hard time throwing away, however, aren't movies I bought, or are rare, or home movies, or even the awful pornography. They are 28 tapes, each with 2-3 episodes of Mystery Science Theater 3000 recorded on them.
Most of you know that I am pretty fanatical about MST3K. I own a replica Crow T Robot, shown above. When I first discovered bittorrent, I spent months downloading digital versions of every episode that was available (198, if I remember correctly) I have since purchased every episode on DVD as it's become available, so I now have the best quality versions of most of the episodes, so there isn't anything on those 28 tapes that I don't have in a better digital form that I can watch anytime.
So why is it so hard to throw them away?
When I was in grade 4, my parents bought some property in what was essentially the woods, about 25 kilometers outside the small town in which I grew up. I went from having a 5 minute walk to school, to an hour and a half bus ride each way. Hanging out with friends after school, and any other extra curricular socializing was made infinitely more difficult to achieve, as some kind of ride would have to be procured, and if there wasn't one, I stayed at home. Eventually I found that it was easier if I just stayed at home most of the time. I learned to embrace, and even enjoy my isolation, and I spent those pubescent years with a lot of time being thoughtful and creative, and defining my personality in somewhat a vacuum.
Then my parents got the satellite dish.
It was one of those giant, motorized, old-school dishes that we had to sweep the snow off of in the winter, and, like many people with dishes in those days, they pirated all of the illegal American satellite television. I remember being amazed when we got the pay-per-view channels for free (!) and I spent a week watching the Mathew Broderick monkey movie Project X over and over again. I was one of the few kids who actually got MTV! My buddy Lance and I watched the video for Smells Like Teen Spirit when it was less than a week old ("they're okay, but I don't think they'll go anywhere," we astutely remarked)
Nothing could have prepared me for 2 channels that were just emerging. They were sort of competitors in the cable comedy channel world at the time. One, called HAH!, mainly showed reruns of sitcoms, while The Comedy Channel, had a bunch of standup comedy clip shows, some original comedy shows (Into The Night With Allen Havey, The Higgens Boys and Gruber, etc) that went a little over my young head, but that I watched religiously anyhow. The comedy nerd in me was starting to take shape.
One weekend morning, while my parents were having coffee in the other room with some friends, I turned on The Comedy Channel, and there was some black-and-white movie playing. "Boring," thought I, but before I could reach for the remote control, I heard someone other than the characters in the movie speaking. At first I thought I was watching an episode of a short-lived show of that era called Mad Movies, where comedians would strip out the soundtrack to old movies and replace the dialogue with their own, but then I saw the silhouettes of the guys making the jokes.
By the time they got to the skit about SPACOM, I knew I was watching something that had never quite been done before, and would likely never be done again.
My mind, my sense of humour, the way I looked at movies, at media, at life in general, changed because of MST3K. I watched it every  chance I could, and since it was a big time filler for the fledgling cable network, I had plently of chances. My mom would hear me giggling from the other room, and when she came in to see what was so funny, she would say, "You're watching this stupid shit again. It's not even funny. It's just stupid." and then, if she stood there long enough, a joke would come along that would make her laugh too, and then she would leave the room, shaking the funny from her head, reconfirming to herself, "So stupid."
In November of '91, The now merged channels of HAH and the Comedy Channel, renamed Comedy Central, hosted it's first annual "Turkey Day" 30 hour marathon of MST3K episodes. Of course, there was no way my parents would be cool with me staying up for 30 hours, especially if it meant sitting in front of the TV for all that time, so I watched as much as I could from the moment I got up that morning. When I realized I would have to forfeit the TV at some point, I decided I would record the last 6 episodes on my grandparents' VCR. They lived with us, had their own satellite dish, and were out of town. Godzilla Vs The Sea Monster was the first episode of the 6 I put on tape that day, and from then until I moved out of the house in '95, I recorded every episode I could, putting the titles on the spines in my terrible handwriting.
While it was always very special to me, the show wasn't just something I kept to myself. The end credits of each episode featured the phrase, "Keep Circulating The Tapes", so circulate I did. My brother, 8 years older, and all of his crazy head-banger friends got hooked as I'd bring them new tapes to watch. I shoved it down the throats of my friends and acquaintances until they 'got it'. It got into our heads so deeply that, by our obnoxious teen years, my friends and I couldn't go to the local theater without inadvertently annoying  the shit out of fellow movie goers with our amateurish MST-ing of the movie.
"I can't believe we just MST'd Schindler's List," I remember saying as we left the theater one night, and then laughing about some riff my buddy Travis made during one of the most poignant scenes of the film. Travis also had a satellite dish, and he and I often traded copies of episodes to fill out each others' collections. We riffed our classes, people on the street, the music we listened to. Seriously, you would've wanted to hit us.
One guy almost did end up fighting me because of my smart-ass urge to riff of everything. I had a t-shirt that read "Beware of God" that I wore to school quite often, until my Mom told me that Dad told her he thought it was inappropriate. One day, I was heading to my art class, and some douche in the middle of his group of  friends saw my shirt, "Beware of God?" he read it like most idiots read aloud in English class, so before he had a chance to make a stupid comment about it, I congratulated him on being hooked on phonics. This caused his friends to laugh at him, which caused him to turn red and yell, "Fuck you, you fat piece of shit!" which caused me to spend an hour in the art room shitting my pants in anticipation of physical violence that ultimately never came.
I probably had close to 40 tapes full of MST3K episodes when I left for University in the big city. New episodes were still airing, Mike Nelson had recently replaced Joel, (which caused a lot of internet drama, but I was just happy to know it had not be cancelled)  but I no longer had access to the illegal satellite dish, so those old tapes were my only source of this TV show that meant so unbelievably -some might rightly say unnaturally- much to me.
I continued introducing people to it. I don't believe it ever aired legally in Canada, very few people I ran into had heard of it, so I was like an exclusive dealer of this exotic comedy drug, that made instant addicts out of nearly everyone who experienced it. I had seen most of the episodes a dozen times easily, knew many of them beat for beat. I would watch the tapes at night, and the familiar voices and dialogue would help me fall asleep almost instantly.
Over the years I'd loan tapes to people and never get them back, or they would wear out and become unwatchable, until now I'm left with these 28 tapes. Tapes filled with childhood memories of a TV family of midwestern guys in jumpsuits, mad scientists, and robot puppets that I have truly felt a part of for 20 years, not to mention the memories I had of sharing the show with others, and of being this bringer of funny to everyone I met.
So yeah, I've now got all the episodes in some kind of digital form, and the tapes are really nothing  but poor quality redundancies that have no reason to take up space in a box for our move west, but tossing them out is not going to be easy.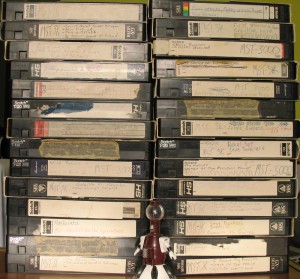 I did take this picture, however. For posterity. Because the most important thing I get out of the tapes now is the sentimental feeling while looking at those poorly scrawled titles. You can click to embiggen and see the terrible writing.
I know it was a long read, so thanks for sticking with it. And, if anyone involved in Mystery Science Theater 3000 ever happens to read this, thank you too. For everything.
It's the evening before my 33rd birthday, and I'm sitting in my 'nerd den', with Alice in Chains's 'Frogs' providing the background music, and a solitary desk lamp providing that moody kind of writerly spotlight I enjoy so much, and I'm thinking about the past year.
Some good things and some terrible things happened this year, and unfortunately, it feels like the latter outnumbered the former, and I am hoping to swap those statistics moving forward.
Last year started with the return of the incredibly awful panic attacks that I had managed to stay free from for about 5 years, and that had owned my life for almost two years before that. Never a good way to start a year, especially when they were almost always occurring at work, in front of my boss, co-workers, customers, etc. By February, I'd had about half a dozen nerve-knocking blind-sides, and there was no discernible reason for them.
Not making me feel any better about myself was the fact that I was gaining weight again. I topped 270 lbs in February, and suddenly 300 was meaning much more than a group of sweaty Spartans in leather battle panties killing the Persian touring circus. I was pretty messed up when I hit the deuce and a half mark years ago, so the fact that I was realistically due to score a fat-trick was not one I was pleased with. I started using fitday to try to at least prevent further inflation.
April was a giant shining puck of 200 Flushes Blue in the Trainspotting toilet that my 33rd year turned out, for the most part, to be. In the EIGHT (holy fuck!)  years that my wife and I had been together, we'd never been on any kind of real vacation, so when the extremely charismatic and handsome (just ask him) wine guru, and object of some amount of obsession on my part, Gary Vaynerchuk announced that he was hosting a 7 day wine cruise, we decided screw it, let's go for it, and booked a three week holiday; one week in Orlando; the (thunder)cruise; and then a week in Fort Lauderdale, where I happened to learn that Denis Leary was performing live stand up. Tickets bought.
That was probably the best time I've had since I was in Vegas with my family when I was 21. In spite of the gluten free thing, we were able to eat some amazing food, even on the cruise, we had a blast at amusement parks, I swam in the ocean for the first time, we met some of the coolest people and drank some amazing alcohol on the cruise, and, even though we caught what may have been swine flu (it was just as the news was blowing that whole thing out of proportion) at the end of the cruise, we still managed to drag our fevered asses to the Hard Rock in Lauderdale to see one of my heroes, Denis Leary, blow the fucking roof off.
I had a couple of panic attacks during the holiday, but mostly from getting over-excited, but on the plane home, I needed serious ativan supplementation just to keep my vibrations down to a level that would keep the bolts that held my seat to the fuselage from shaking loose. It was my brain and body kicking and screaming like a petulant child, not wanting to go back to the dull complacent drudgery of home and work and lack of fulfillment. It only got worse when we got home. So much worse.
At first I thought it was some lingering effects of the brutal flu, combined with the psychological tantruming 4 year-old. The panic attacks started coming faster and more furious than before, and now brought with them a nearly constant upset stomach and lack of appetite, and my left shoulder, which has been a bit unhappy since the first go around with panic attacks, was now almost constantly in pain.
My doctor suggested that I had IBS, and told me to try a bland food diet, to try and eliminate common gut-troublers, and to try meditation, exercise and water to help with the panic and the shoulder.
By paying attention to my caloric intake, I had managed to lose about 10lbs between tipping the scales at 270, and the time of our trip. In the 2 months following the vacation, I dropped another 40, but it had nothing to do with careful menu planning and portion control, but because nearly everything I ate made me feel sick, and brought about the panic monster. I was on the Double A Diet. No, not batteries, I'm talking about a steady intake of Ativan and Advil.
I honestly don't remember much of those months. I was a zombie at home, tired and depressed, and at work I oscillated between cold and angry. I hated having to interact with anyone, because I felt so shitty that I couldn't focus on conversation, so it became a chore to the point that I had to try really hard not to just walk away from people when they started talking to me. This included my co-workers, my friends, even my wife. I was stating to become agoraphobic. I had to step down as best man at my friend's wedding, and didn't even make it to his bachelor party because, 2 hours before it started, I was dry-heaving and crying from the anxiety of having to be around people. There were so many plans made with friends, things we wanted to do, that we had to bail out on because I was so fucked up.
I've done a lot of damage to relationships, which is probably what bothers me the most from all of this shit. I wasn't myself, and I continue to work my way out of that today, though I've come pretty far in the past few months.  I'm unbelievably grateful that my wife was able to deal with me through it all.  She's phenomenal, and whatever cliche you want to attach to it about being lucky to have her in my life is absolutely true.
I wasn't even aware of how bad I was, and it wasn' until we went to visit my family during the summer that I got the wake up call that I needed. We were out at the lake, and I spent most of the first day either sitting and shaking, hardly able to be a part of the conversation, or napping. The lake is the most beautiful and peaceful place in the world that I could be, and even there, I was completely on edge, exhausted, and it was the first time my family had seen me without that extra 50 or so pounds, so needless to say, everyone was very worried about me.
When my sister told me how upset and worried my wife was, and that I should go to an emergency room and refuse to leave until someone had an answer for what was going on with me, a switch flipped in my head. For the first time, I stopped seeing my situation from my own head, and instead through the eyes of a bunch of people who loved me and were genuinely frightened for me in a way I had never seen before.
On the drive back home, I made a decision to take control of my well-being, instead of being a victim of it. I would see my doctor about getting a complete physical, as well as the $300 food alergy/intolerance test that he was pretty sure would help point me toward other foods that might be causing me grief; I would see a therapist about the anxiety, a massage therapist and physiotherapist for the shoulder, and accupuncture/chinese medicine practicing friend to work on everything in a general sense. I also took a closer look at what food I'd been eating over the preceding weeks, and estimated that I was eating between 800 and 1000 calories per day, (in order for one's internal organs to function properly, a person needs to consume a minimum of 1250) which was almost certainly contributing to my mood and energy problems. So I resolved to make sure I ate 1500 calories a day minimum. Suddenly, instead of using the fitday website to make sure I wasn't eating too much, it was helping me make sure I was eating enough. It was kind of awesome to 'have to' eat a couple of cookies and a spoonful of peanut butter before bed, instead of it being a shameful stab at the self esteem.
My physical came back pretty normal, other than low vitamin D, (which made snese considering I hadn't seen the sun very much since leaving Florida) but the food intolerance test came back with a shocking list of foods that I have been avoiding ever since. (notably: dairy, eggs, peanuts, bananas, garlic, soy, yeast, pineapple, cranberries) Ironically, the test says that I should be okay with gluten, though I haven't tested that theory just yet. By the end of this month, I can start reintroducing some of the verboten vittles, to see how I react to them. It's been difficult to eat with so many restrictions, and there were some grocery store trips in the beginning that ended in me wanting to simultaneously cry while smashing a stock boy in the head with a brick that has the phrase 'May Contain Traces Of…' engraved on it, but after a while I got into a decent pattern of food that I could eat and make taste okay.  The downside is that I have to do all my own cooking, as dining out is nearly impossible, and I can't eat anything that is remotely quick-fix. But, the change in diet seems to be helping, and that's what matters.
I saw a behavioural therapist for a few sessions, and she gave me quite a bit of good advice, meditation techniques, and even called me 'brilliant' at one point in our conversations, (I do understand that I was paying her good money for those conversations, but it's still pretty cool when a stranger calls you brilliant) and she got me thinking differently about anxiety and panic by giving me The Mindulness and Acceptance Workbook for Anxiety, a $20 workbook that I can not recommend enough if you suffer from any kind of anxiety related disorder. It took quite a bit for me to actually see a therapist, because I never thought they could do anything for me I couldn't figure out for myself, but now that I've had the experience, I think everyone could benefit some amount of professional therapy.
Massage therapy, accupuncture, and physio helped get my shoulder back to a manageable place. Unfortuntely (and the same can be said for my anxiety homework) I have trouble keeping up on the exercises when I'm feeling okay, so I go through these waves of feeling good, not doing the maintenance, getting in pain again, and then getting back in a routine until I feel okay again, etc. Now my goal is to keep stretching and working on myself even when I feel okay, so that I can do some longterm good.
I also need to work on fitness. Sure, I've lost about 55lbs this year, but it was completely due to starvation, and had nothing to do with exercise, so while I'm lighter, I am actually in worse physical condition that I was a year ago, and I've been feeling it lately. The relatively rare times when I do get into anxiety or panic situations now, such as when in line at a store, or at the airport, are usually preceded by some amount of strenuous physical activity, (like, you know, walking, or having to stand for more than five minutes) and that physical stress combines with the social anxiety and makes me start to feel like I'm sharing a phone booth with Michael J Fox, Mohammed Ali, and a space heater.
So, the good news is that this, my 33rd spin around the sun, has ended on a note of improvement. Slowly but surely, I'm getting myself put back together, and with any luck, I can continue riding that wave into coming years. Hopefully we will be relocating this year, to a nicer part of the country, and find a house that doesn't share walls with noisey, ignorrant, white trash breeders, and maybe I'll acquire enough peace of mind to figure out what I want to be if I grow up, and be able to start pursuing it.
Okay, it's getting late, and I have a very low-key 33rd birthday celebration tomorrow. I hope we all have a great year.
Oh, and in lieu of presents, this year I will be accepting donations of cute Asian servant girls. Thanks in advance.
C.
Check it out, a website with my name on it. What are the chances?
This will be the new home of my renewed interest in blogging, as well as a hub for all of the other shit I do on the internet.
Speaking of said shit, in addition to the webcomics I am still fiddling with, I recently came up with a new idea for a novel, and I should have enough time to prep it between now and November, when I will try to write the bulk of it for NaNoWriMo. On a music-related note (PUN!) I plan on getting some more of my original songs recorded later this month, while my wife is on a retreat in the mountains. The woman's seen me naked, but for some reason I have a hard time not being self-conscious when doing music stuff while she's around. Maybe therapy will help with that.
In the scant minutes when I'm not either working at my day job or contemplating all those other projects, I've been refining an idea I had for a web show. With any luck, that will come together in the next couple of months as well.
In the past, I have taken a very negative view of the fact that I want to do too many things, and am unable to just pick one and focus on it (according to the therapist, I may have something called Passive ADD on which I can squarely dump the blame) which in turn leads me to giving up on all of it, which in turn makes me feel like a failure, blah blah blah, cue the trombone.
A little while ago I decided to change my attitude from the one above to one that says 'fuck it, let's just do it all', and that seems to have helped. So, as I work through any of my various projects, I will do my best to update here about the process, the progress, and unrelated shit that I feel I need to digitally excrete.
-Stay tuned, friends.
Chris.
I haven't really made resolutions since I was a teenager. I learned early on that the pressure and stigma attached to them was basically a recipe for failure, and, for most people, declaring a resolution at the stroke of Dick Clarke (or Seacrest now, I guess. Creepier) actually just provides an easy out.
"Oh, yeah, I didn't quit smoking like I said I would. It was a New Year's resolution, and nobody sticks to those"
So at that point, why even bother? Why automatically set yourself up for a level of disappointment that's even higher than the amount you give yourself for your daily failures and flaws?
However, just because you don't stand on a table at 12:05AM and slur to a crowd of beparty-hatted revelers how 'This year, I'm gonna stop pirating porn, for serious!' Doesn't mean that the New Year can't bring with it some kind spirit of self-improvement and positive change.
That's why I do something a little different than resolutions. Rather than having my mouth (or blog) write cheques that my lazy(ficient) ass can't cash (which it already does too often, ie: every time I announce a new comic that doesn't end up getting posted) I choose a more general approach, to thinking of things in my life that I can work on, and spend more time focusing on. Instead of "I resolve to lose weight!", how about, "I am going to focus more on improving my eating and exercise habits."?
For me, this kind of passive goal setting is less intimidating, and feels less like I've failed before I've even begun, if that makes any sense. I would love to be the kind of go-getter who sets determined goals and stops at nothing to achieve them, (and if those people have the audacity to make New Year's resolutions, they should be punched in the face for rubbing in the rest of ours) but let's face it, I am NOT that kinda guy. At least not yet.
I have just recently thought of the term "New Year's Focal Points" to describe this kind of non-rigid, low pressure, achievable self-improvement January 1st goal setting idea. I think "Focal Points" is a just buzz-wordy, and douche-baggy enough phrase to catch on, so I'm sticking to it.
And with that, here are some of the things I would like to focus more on in 2009 and beyond:
-Health and fitness
-Doing fun, cultural things with the wife
-Family and Friends
-My webcomics misplaced and Imaginary Enemies
-My video webcast idea
-My music blog www.downloadablecontempt.com
-Blogging in general
-Helping my wife build her business
-Making music
-photography
-Pirating less porn
There are probably others, but those come to mind right now. I'm curious to know how many of you make resolutions, how often you follow through, or what kinds of things you hope to focus on in the new year. Don't be shy, leave a comment!
I hope you all have a happy and healthy 2009, and achieve whatever you either resolve to do, or focus on in the next 12 months.
-Now let's get drunk and blow on a wizzy retractable paper snake coily thingy! Wooo!
C.R.
With the help of something a good friend of mine once said, I have come up with a formula.
[Laziness] + [Cleverness] = [Efficiency]
While I suppose there are some people out there who are efficient for other reasons, for me, and probably a lot of people, laziness is the true mother of that invention, and that kind of efficiency (which I have now dubbed Lazifficiency, because I think made-up compound words are awesome) has helped me quite a bit in the past.
Back when I worked for Chain Video Rental Store, I had every element of that job down to it's simplest, quickest, and most effortless, from prepping movies for the rental shelves to counting out my till at the end of the shift, I had a system for everything that could rarely be improved upon. When I became the assistant manager (youngest ever, at that time, which is one of my many inconsequential lifetime achievements) of that store, if staff had a closing shift, they knew that I could get them out of the place within 5 to 10 minutes after locking the last customer out, when any other shift supervisor would usually take a half hour to an hour.
In other jobs, I would devise checklists, organize workstations, and invent little systems in my head that could achieve everything I needed to do in the least amount of time possible.
My motivation? The down time, baby. If you get everything done quickly, you can spend more time not having to work.
And that's great, if you're always going to work for someone else, but it can kind of cripple you when you're trying to do something on your own.
With all these personal projects I want to do; webcomics, blogs, music, writing, etc, the time I have to spend on them comes out of that precious 'down time', so my brain is reluctant to do anything that I don't HAVE to do, if it means impeding on that time. Why do I work so hard at working smart, to give myself all this extra relaxing time, if I'm then going to use it to do more work? Often, this causes my brain to become a petulant little shit when I want to get it motivated to, for example, try filming a webcast on the weekend, or work on a novel outline, because I'm cutting into precious 'do nothing' time. Even if these projects are things I love to do, honestly, I still love to do nothing even more.
But here's something that occurred to me this morning: I'm not looking at the bigger picture, because if I did, I would realize that my lazy-assed brain was actually going against its tendencies.
You see, rather than applying lazifficiency on a small scale, to individual tasks, or just my job, or just housework, or just shopping for underpants, I need to look at my LIFE as the task to optimize.
I work a job that takes up about 44 hours a week, a job that I will likely have to do (or one just like it) until I am in my sixties or beyond. How is that Lazifficient? There is a fucking OCEAN of downtime that I am throwing away on this poorly organized task called existing. I need to optimize my time on the earth, and a 'job' in general, even when made extremely efficient, is still time spent in a place doing things you would not be doing if you had complete control over your time. Before today, I had never zoomed out of my life and thought of it quite like that.
Could be a breakthrough. Which would be nice.
However, as an elite group of military cartoon people used to say, knowing is half the battle. What I need to do now, is figure out how to blend this new revelation with my lazifficiency skills, and come up with a plan to optimize my life.
-I need to start making some lists…
C.R.
I've mentioned it a lot recently, and it's only because it has been the most predominant thing on my mind for the past two weeks; this "video game concept" thing. I mention it again today, because it's a good example of how easily distracted I can become when I come up with the Newest Great Idea.
Earlier this month, I did this crazy week-long road trip, 20 hours of driving, and 6 customer visits, in five days. I do so much driving for my job, and all that time alone with my thoughts is most often where the ideas that fill the bottleneck originate.
So I'm driving along a mountain pass in B.C., when I have this vision. I remember reading something Stephen King said about his idea for the novella The Mist. He said that he was at the grocery store, when he suddenly had this image of a pterodactyl crashing through the window and flying down the aisle. The story he wrote just built upon that.
That's kind of what I experienced while behind the wheel, this vision of a scene from a video game, and by the time I finished that 3 hour leg of my journey, I had most of the game ideas figured out. The rest of that week was spent mentally refining those ideas.
The whole time this is going on, there's a part of my brain, that ounce of common sense mixed with inner-critic, telling me, "You realize that you don't have any experience, resources, or contacts in the game development community, right? This is the biggest waste of time, considering you DO have the resources and tools at your disposal to do any of the other projects you want to work on. Why aren't you putting more effort into your webcast idea, or writing scripts for your comics, you dumb shit?"
And that voice is right. However, I always get irrationally obsessive about the Newest Great Idea, and it almost invariably affects everything else I want to do.
Cut to this past Saturday. I feel like crap; frustrated, grumpy, I want to work on something creative, but nothing's happening. Mentally constipated. I was trying to find some kind of project planning software, where I could start putting all the pieces together for my game idea, on the off chance I can flesh it out to become a real pitch that I can take to a developer. Nothing that I found was quite what I wanted, and I was letting it get to me.
The wife needed to get some supplies from Office Depot, and I needed to get out of the house, so off we went. On the drive there, I told her about my frustrations, and she suggested, "Why not put all of the ideas down the old-fashioned way, with a pen and paper?"
She's thinks she's so fuckin smart. And that's because she is.
I looked around the Orifice Depot, and found a 5 subject notebook, and some of those elementary school workbooks, the kind where only the bottom half of the pages are lined, and spent the rest of the day mind-mapping my ideas into one of the workbooks.
By Sunday morning, I found that the game was not pushing nearly as hard at the front of my cortex anymore, and I was actually able to work on comics without the Newest Great Idea interfering. It was magical, the most focused I've been in a long time. All thanks to a 99 cent workbook, and a wife with a Great Idea of her own.
-I don't know if this brain-dumping technique is the final piece to the puzzle of enabling me to do more with myself, but I do know I'm going to go buy some more of those workbooks today.
C.R.
So this is how school fucked me up, or at least contributed.
I loved to read when I was a kid. I picked up the skill pretty quickly, and devoured books as fast as Icould get them. Also, I read them. My earliest memory of a favourite series of books were the Charlie Brown Encyclopedias. Do you remember those? They were awesome. Educational and fun, and easy to get into, like sex with a librarian.
By the time I got to the first grade, my reading and comprehension was at an advanced level, and somehow, so was my understanding of math. I don't know why, I've never really had a love of numbers or anything, but math was always quite easy for me.
In light of my super-geniousity, it was decided that I would take grades 1 and 2 in the same year, and effectively skip into grade 3 the next. Apparently the whole skipping grades thing isn't done so much anymore, but then again, failing kids isn't done anymore either, so I guess it all evens out.
Looking back, I'm not sure if skipping grade two was a good thing or not. It set me up for a lot of high expectations from myself and my family, took me away from the friends I'd made that were my own age, dropping me into a third grade class full of kids I didn't know the next year (which was terrifying, I still remember that first day. They all seemed five years older than me). It also probably contributed to my becoming a (mostly self-imposed) social reject in high school.
But at the time, I was just excited. I was getting all this attention. I was "special", but not in the way that the guy with the hockey helmet who drove around the school looking for sticks to store in the back of his giant tricycle was "special". I was fucking smart, yo, and being recognized and praised by all these adults for my brilliance.
And all because I liked to read. Not because I tried really hard.
In Elementary school, there never really was an emphasis on homework. As long as you could pass the standardised test for your grade, and showed up, that's all the government really worried about. Just give the little fuckers enough of a basis so that they aren't a total waste when they hit high school. Thusly, I was a straight A student all through those grades. I had perfect attendance, and I learned all the stuff the exams required me to learn. Done.
I didn't start getting lower grades until grade 9, because, all of a sudden, this 'homework' shit was actually a significant part of your final grade. "What? Why? If I learn it in the hour it takes the teacher to teach it, what's the point of spending another hour regurgitating it repetatively? That's redundant, and a waste of my time."  So I hardly bothered with homework. I would do the mandatory assignments, papers, etc, and always got great marks on them, and exams were easy, but I became a B student because I refused to waste my time on things I already knew.
My report cards always sang the same refrain. "Chris has a solid grasp on -insert subject here-, is very bright and contributes well to class discussion, but just needs to put more attention into his homework assignments to achieve that better grade"
But my stubborn, spoiled, too smart for its own good brain refused to buy into that. School is about learning, and I was learning perfectly well without having to solve thirty slightly different algebra equations every damn night. It was worth that 10-15% of my mark to basically be lazy. And why not, when you continue to be successful and praised and rewarded and pass all the exams.
Here's why not, and it's only recently hit me this simply:
There are no exams in the real world. Nobody cares about what you've learned, as much as they care about how hard you work to apply what you know.
Damnit, why didn't anyone stress that in school? Well, chances are they did, and I was too full of my own awesomeness to pay attention.
So there I was at 17, the youngest in my graduating class, a life full of beliefs that work is for suckers, and that I can do just fine by being smart and a quick learner, reinforced by teachers and parents and the system, only to get dumped into a reality that is somewhere in between where I come from and where someone like my father, the hardworking just to scrape by, old-school work ethic, comes from.
-Uh… shit. What do I do now?
C.R.
Getting things done, follow-through, motivation, hard work.
These things tend to go directly against everything that makes me the person that I've become, and I'm starting to realize that, if i'm going to be successful at something other than my marriage and a job that pays just enough to get by, then I'm going to have to overcome some pretty deeply ingrained and conflicting aspects of myself.
I was the youngest child in my family by a few years. An accident. Whoops, here I am! By the time I came along, my mom was much more laid back about child-raising, not the stressed out and hard woman my brother and sister had. My dad made enough of a living to provide a childhood for me that was basically middle-classy, but it was a luxury compared to what my siblings had when they were little. I was spoiled, I was 'the baby'. My sister spent a lot of time looking after me, in the early years when mom was working, so I essentially had two moms. My dad had transitioned from being a 'company man' to being self-employed, so he was generally around more when I was a kid.
I never really wanted for anything, never really had to do chores. Life was good, and I didn't have to work at it.
I don't know if there's a man I know with a stronger work ethic than my father. The guy is in his sixties, and is currently building their new house, with little help. If monetary compensation was equal to work ethic, we should've been fucking loaded, but I learned early on that life isn't like that. I saw how asshole celebrities and people who played sports, greedy politicians and corporate douchebags, people who really didn't seem to have to put in a gruelling 14 hours of work every day, or contribute anything worthwhile, made an obscene amount of money. I saw first hand why hard work is its own reward, because it's the only damn reward. My dad still has to go work a job in order to pay their bills. I'm not sure if he can afford to retire, and I'm not sure if he'll know what to do with himself if and when he retires.
Somewhere in my youth I made a decision, that I would not let myself get tricked into a life of working my ass off for nothing. For example, the job I do now, is the most money I've ever made, and the most, I don't know, noteworthy, I guess, kind of position -in that I'm the number-one guy in the country for what I do- and I don't have to work that hard at it. It's time consuming, sure, at 40+ hours a week, and I deal with people who make me crazy, and I have to travel a lot to not very glamorous places, but as for actual, real, honest hard work, most days, it's one of the easier jobs I've had. This only reinforces everything I learned from my childhood, and watching what my parents went through.
Now this doesn't mean I blame my parents for everything that's wrong with me, (I'm actually very pleased with the person I am, and I largely have my family to thank for that) but how I saw work and reward as a little kid, in my little monkey-sphere part of the world, definitely laid the slacker foundation for the things I now realize I would like to change about myself.
-But nothing fucked me up as bad as school. We'll get to that tomorrow.
CR