If you read my last post, you learned about how I once upon a time met a girl on the internet, and that she flew halfway around the world to meet me in the real world. That was in September of 2011.
She was scheduled to fly back home on October 6th, but less than a week into her visit here in Canada, we both had the feeling that a month simply wasn't long enough, and it was going to be terrible when we would eventually have to say goodbye. We started talking about the possibility of her extending her stay.
Then September 11th happened.
We were staying in a nice hotel room on our road trip around western Canada when we woke up to see that New York was being destroyed by air planes. In the days that followed came news about the difficulties people were having with international travel, and we started talking about how it maybe seemed like a sign that maybe she wasn't meant to travel back in October. Not that we needed much in the way of justification at that point. We were pretty much head-over-heels for each other.
Part of the road trip included a stop to visit my family. Of course they all hit it off with her, and she with them. I'm pretty sure my sister actually told me at one point that I had her permission to marry this girl, or something to that extent.
By the time we finished the road trip and got back to my little apartment, we were convinced that one month simply wouldn't do. In fact, maybe we should see if she could just stay indefinitely.  While discussing this issue with my friend Marc, he suggested we go to the Immigrant Women's Association, since they had free legal advice for foreign chicks (pretty sure that was the motto on the business card) We made an appointment, and headed down a few days later.
As we sat in the downtown waiting room, we were acting like conspiring criminals,
"Do we tell her we're engaged or something?"
"Do you think it matters?"
"I don't know. Maybe we should."
"Okay."
And with that, she slid a ring that her grandmother gave her off of a finger on her right hand, and placed it on the engagement finger of the left. We thought we were being so clever.
We met with the lawyer, who was immensely helpful. When it all boiled down the basics, we had 3 choices.
A: She goes home as planned, and we plan for her to return on another visitor's visa later in the year,  at which point we would get married and move on to either B or C
B: We get married before she heads back home, and then she would apply for residency from outside the country. We would have to raise about $10,000, and it would take approximately 5 years
C: She stays in the country, and we get married before her visa expires, and apply from within the country. She wouldn't need to leave the country, it would take about 2 years, and cost about $2000
We walked out of the place a little shell-shocked, as we realized what that information meant. We were both thinking the same thing. Option C.
"Are we engaged now?"
"Yeah, I think we are"
And that fakey engagement ring suddenly became her actual engagement ring.
This was mid-to-late September, and, if I recall, her visa was only for 3 or 6 months, so the wedding had to happen quickly. We decided on November 3rd.
Here's where I offer the only advice I have for people who intend to get married one day. If you don't have major aspirations and desires for EXACTLY how you want the day to go, and give yourself a very low budget and small amount of time to plan, it can work out perfectly.
We had almost no money, and I think we borrowed about $5000 from my bank to help us with living costs for the year that she wasn't allowed to work, and we used less than $2000 of that on the wedding. I rented a tux, and my fiance, an excellent sewing person, decided to make her own dress, a dark red number with a black veil which turned out amazing.  She also crafted the bouquets and picked out some very simple decorations. We told the wedding party members to simply dress in something black, so that nobody would have to rent clothes, or buy clothes they wouldn't have a use for after the fact. I have two couples in my life who had been my best friends at that time, (and remain so) so the guys were my groomsmen and the girls offered to stand up for her, since it was looking to be an "all groom's side" kind of wedding.
This was the only downside about the whole thing. Due to the shortness of time, the distance, and the expense of travel, none of her family and friends would able to make it here for the wedding, until one of my fiance's closest friends, who was living somewhat less far away than the other, said that she wouldn't dare miss the event, and arranged to travel here for it and be her maid of honour. It gave my wife-to-be at least a small piece of home to add to the event. I rounded out my side of the party with my nephew, who's always been more like a little brother to me, and will always be one of the most important people in both of our lives. We told the wedding party members to simply dress in something black, so that nobody would have to rent clothes, or buy clothes they wouldn't have a use for after the fact.
My parents have a large property, and have catered weddings for years, so they offered to handle all of that stuff. We sent a casual invitation to members of my family and friends who happened to live in or want to come to my parents' place that day. Neither of us had a desire for a dance, or other formalities, just a fun party with people who care about us to share the day.  Neither of us is especially religious so a Justice of the Peace was arranged.
One day, as I was listening to a Frank Sinatra CD while in the shower, the song "For Once In My Life" came on, and, it being a favourite, I sang the crap out of it. When I emerged from the bathroom, my fiance told me that would be our wedding song. Worked for me.
For the time and money and resources we had available, it all came together incredibly well. there were a few things that went wrong leading up to the day, but nothing we weren't able to work out. When the day came, it was a relatively nice day for early November. there was no snow on the ground, and the weather was nice enough that people could mill around outside before and after the ceremony without freezing. Days before our wedding, one of the bridesmaids suffered the loss of her mother, and we didn't expect that they would be able to make it.  Somehow, in spite of their grief, she and her husband-to-be were able to join us, something that I will always be amazed, humbled, and grateful for.
My fiance and I collaborated on the vows, and by that I mean, she wrote them, I said "I can't top that," and she gave me some flash cards to use in case I needed them. Basically, I didn't do much other than drive places and pay for things, and keep my family from doing anything we didn't think was necessary. I think it was a good arrangement. then came the day.
As I stood in front of about 30 of my closest friends and family crowded into my parents' house, in top hat and tails, awaiting my cousin to hit play on the CD player to start Sinatra's singing intro for my bride's walk down the aisle, I was very nearly as nervous as I was that day I waited for her at the airport. Then, when Old Blue Eyes started crooning, and she came around the corner, looking stunning and gothic and happy, everything else sort of melted away.
The rest of the day was a montage of awesomeness and happiness. Food, drink, WWE themed party hats and napkins laid out on the head table by my friends, drunk aunts that I'd never seen drunk before, my new wife's best friend getting hammered and fitting in perfectly with my crazy relatives, a raucous gift-opening, a night in the fanciest hotel room in the small town I was born in, including a small after party get together with my friends from the bridal party. Aside from the lack of people from my wife's family, it was perfect. I've been to and heard of plenty of weddings before and since, and I think we had more of a good time overall than most, and that's exactly what we wanted.
Well, that, and plenty of convincing pictures in case immigration had any doubts.
Now it's been ten years. It goes fucking fast, people, it's not just a cliche. Now we've got a house, a  crazy dog, a vague plan to move on to a new adventure in another province, and, in spite of some bad times and sad times, we've never stopped being there for each other, supporting each other, and loving each other.
There was a long stretch of time in my life when I was convinced that no girl would ever see anything in me worth sticking around for.  I've spent 10 years trying to figure out what it is this girl sees, but maybe I should just not give a shit and just enjoy the fact that she does.
I love you, my wife. Forever and forever.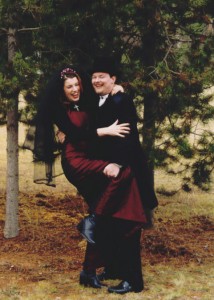 mm?
One Response to "Ten Years Ago Today We Got Married"